ThisFace-Cover ProtectiveShieldis an essential dailynecessity that should be equipped in this critical period tosafeguard the health of yourself and the others. The anti-scratch and durable coverprevent direct contact of the dropletsto your body. hencelower the chance of getting infections.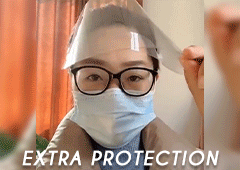 By covering the face area from the forehead. eyes. nose and the chin. the shield cankeep particlesfrom the air like droplets. dust. or otherharmful substances away. There is an elastic headband that isadjustable and easy to wear. The shield coverfits all face shapes. it is comfortable for people who wear glasses or goggles.Protect yourself and the others. let's get it now!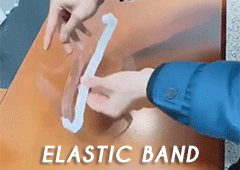 Features:-
All-Round Protection:

The shieldcovers the face areafrom the forehead. eyes. nose and the chin. the particles from the air like droplets. dust or other harmful substances can be kept away.
Lower Infection Risk:

It reduces the direct contact of air particleslike saliva or sneezing droplets from the others. hencelower the chanceofgetting potential diseasesby droplets transmission.
Washable & Reusable:

The shield can bewashed and sterilizedby cleaning supplies. It is easy to clean.
Fit All Face Shape:

There isan elastic headband for easy wearing. It is flexible for length adjustment thatfits all face shapes and size. People who wear glasses can wear it with comfort.
Durable Material:

It is made ofdurable plastic with HD clear view. The cover isanti-scratchand durable for daily use.
SPECIFICATIONS:-
PACKAGE INCLUDE: