🐾 
Never Lose Sight of your Pet! 

🐾

Every year, thousands of dogs get hit because they're not visible at night to cars!

Introducing our Paw Pup™ - Light-Up LED Dog Collar  which lights up your dog and keeps him/her safe and very visible! With a simple on/off button and options for solid or flashing light, our safety collar glows brightly with its strong LED technology. It is also water-resistant and lasts up to 4 hours of continuous use.
Our custom-designed LED collars are a MUST have for every pet owner! Pets are precious so keep them safe. . .

⭐⭐⭐⭐⭐  5-Star Rating - "A simple, low-cost solution for keeping your pets from danger and allowing you to see them at all times. Do yourself and your best friend a huge favor by keeping them safe - it isn't worth the risk." - Kayla McCormick (Satisfied customer)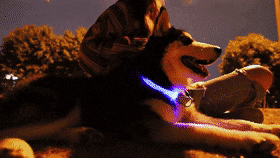 Walking your dog at night greatly increases the risk of an accident or injury from a passing car.
It's difficult for drivers to see properly in the dark, turning a relaxing, bonding time into a stressful ordeal for both you and your buddy.
Now you can ensure your dog's safety with this ULight-Up LED Dog Collar  that makes sure about finding your dog in time. It glows in the dark to enable easy locating of your lovely pet. Thanks to the advanced design of the pet collar!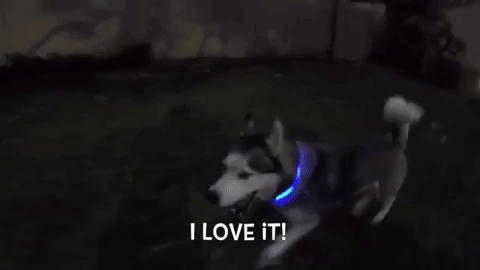 With the USB Chargeable LED Dog Leash, you won't have to worry about night time dangers.
This high-quality collar features supercharged LED lights that promptly alert others to the exact whereabouts of you and your buddy. Choose from 3 different modes to announce yourself on the road, with Quick Flash, Slow Flash & Steady Light. Drivers will be able to see you from far away, giving them enough time to slow down. 
🐾 
HIGHLIGHTS

 🐾

🐾  Comfortable & Fully Adjustable - The easy-to-use clips make no hassle to put on or off. You can adjust the collar as your pet's neck size. It gives the ultimate comfort to your pets even if they wear it all day long. It is easy and convenient to wear and remove.

🐾  Save Your Dog's Life - With this glowing collar, vehicles will see your dog clearly in advance Your dog will be noticed every time, which ensures the total safety of your pet! No Matter where you go, you can save your dog from getting lost.

🐾  Ideal For Night Use - The pet collar is ideal for walking at night that makes your pet unique in the dark. The shiny neck collar is an excellent way to ensure your pet's safety at night. Perfect for dogs, and puppies. 

🐾  Long Life & USB Rechargeable - THE USB rechargeable battery gives over 4 hours of illumination depending on the mode chosen. One charge lasts multiple walks.  Easily charge up with the included USB charger! 

🐾  3 Light Modes - You can change the light between steady mode, rapid flashing, and slow flashing with just once click. You can choose as you prefer.
🐾 
OTHER FEATURES

 🐾
✅  Wide Fiber Optic
Provides maximum light transmission for long-distance visibility.
✅  Reflective Stitching
We added even more visibility with our highly visible reflective stitching.
✅  Quick Connect Buckle
Easy on, easy off!
✅  Intelligent Charging
Quick charge, with indicator light.
✅  Adjustable Size
See sizing below to get the correct size for your buddy.
How To Pick The Correct Collar Size:  
Step 1. Measure your dog's neck  Measure your dog around the top of the neck directly behind the ears. We recommend using a cloth measuring tape.
Step 2. Add 1 to 3 inches to your dog's neck size   Generally speaking you should add 1 inch for small dog breeds (less than 10 pounds), 2 inches for medium-sized dogs and 3 inches for larger dog breeds (weighing over 80 pounds). 
Step 3. Check the collar size chart below  Now that you know your dog's neck size and have added 1 to 3 inches you can check out the collar size chart below.
Specifications:
Material: Nylon
Feature: Quick Release
The Time of Charging: 30 Minutes